Five Kapaa High  seniors received scholarships of $1000 each from the Kapaa High School Foundation at the May board meeting.   The scholarship winners were selected based on their personal statements, academic achievements, and their participation in community and school service activities throughout their high school years.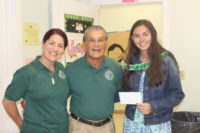 Leila Nelson will be attending Duke University in North Carolina in the fall of this year.   She was offered a 4 year full ride scholarship.  Throughout her high school years, Leila was active in the  Key Club(current President) , National Honor Society, Health Occupation Students of America(HOSA), Hui Lama Ku O Ka No'eau(a leadership and service learning program), senior mentoring(of incoming freshmen). She also volunteered with the Blood Bank, donating blood several times.   She also participated in Cross Country, Track, and Tennis.  She will be graduating as one of the valedictorians of her class(gpa of 4.262)  and has the distinction of achieving a perfect score on her SAT test.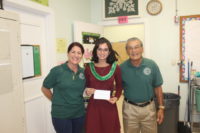 Hannah Collins-Doijode  will be going to John Hopkins University in Maryland in the fall.   She will be in a premed program with a goal of returning to Kauai as a physician.   She has spent the last 4 years at Kapaa High school involved in a lot of service and leadership positions.  She has volunteered with the Key Club(outstanding Secretary award), National Honors Society,  Kauai Independent Food Bank, HOSA, student  tutoring at Kapaa High,  All Saints Church, and the Blood Bank.  She will be graduating as one of the valedictorians with a gpa of 4.25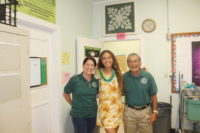 Juliana Tampus will be enrolled at Vanguard University in Costa Mesa, California,  majoring in Engineering.  She is the President of the Kapaa chapter of National Honor Society,  Branch manager of Warrior Credit Union,  volunteer at Big Brothers, Big Sisters of America,  Interact Club, and HOSA.  She also excelled  in Cross Country,  Track,  and Swimming, with multiple top finishes and appearances in the Hawaii High School Athletic Association state championships.  She will be graduating as one of the valedictorians of her class.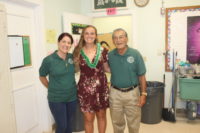 Sydney Nice will be going to University of Hawaii in the fall to pursue a degree in Nursing.  As President of the Interact Club she has motivated her club members to complete 24 service projects this school year.  She was also team captains for her Varsity Tennis and Volleyball teams.  When not working at her part time jobs, she also volunteers at the Humane Society.  With her excellent time management skills she excelled academically too and is a member of the National Honor Society.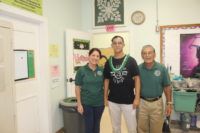 Maceo Cantu will be attending Georgia Tech in Atlanta,  Georgia, and plans to major in Aerospace Engineering.
His service to his community has largely been through his 7  years in the Boy Scouts of America.  In the spirit of "Cheerful Service," Maceo has been inducted into the Order of the Arrow, a Boy Scouts honor society.  He is currently working on his Eagle Scout service project which is to build a covered walkway for the Ae Kamalii Preschool in Lihue.
Maceo was also a member of the Junior ROTC program,  Kapaa High School Paddling and Cross country teams, and the Key Club.  He will be graduating as one of the valedictorians of his class.
Congratulations to our  scholarship winners.  We commend your diligence and dedication to  excellence and your commitment to community service.
The Foundation will like to extend a warm "Thank you"  to all the generous supporters of the Kapaa High School Foundation who make these scholarships possible.