The Kapaa High School Foundation Golf Tournament was held on June 23 ,2018 at Wailua Golf Course with 72 golfers participating.  An awards luncheon was held at the Kapaa Hongwanji Church Hall .
With a three player scramble, the first place prize  went to the team with Casey Watabu, Todd Ozaki, and Beau Acoba with a net score of 59.3.
5th place:  Glen Ebesu, Al Muranaka, Loren tanigawa     (62.3)
10th place:  Howard Uohara, Russell Sugano, Bryden Salvador (64.4)
15th place:  Jet Levinthol, Dustin Moises, Wayne Bonilla  ( 65.4)
20th place: Eric Shibuya, Glenn Morishige, Claire Morishige    (69.6)
A competition closest to the hole was held at the 17th hole.   Dan Nishimoto, Kauai's outstanding golfer, was available to hit a shot for the team for a $5 donation. The shot hit by Nishimoto  for the team of Brian Fujiuchi, Jose Diego, and Winona Carcia won the team $175 with a distance of 58.5 inches closest to the hole.
Due to the generosity of the many donors and hole sponsors, the participants went home with a lot of door prizes, including the grand prize drawing for  3 night stay at Las Vegas Sam's Town Hotel along with a $700 travel certificate, won by Tommy Tokuda.
The biggest winners, however,  will be the  Kapaa High School Athletic Department  and the athletes  who will receive $10,000 tournament proceeds to purchase equipment.
The Kapaa High School Foundation would like to thank the many sponsors and donors who made the event successful.  We are blessed to have the support of so many businesses, volunteers, golfers, alumni, and other individuals from around the island who always give generously to make Kapaa High School a better place.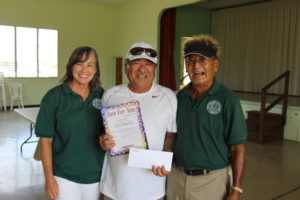 Grand Prize winner Tommy Tokuda with Foundation board member Bridgette Arume and President Art Fujita