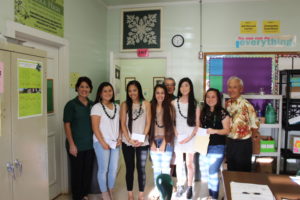 Kapaa High Foundation President Art Fujita presented the five winners of the Foundation grants with their checks at the May Directors Meeting at the Student Center.
Bailey Bernabe is the Student Body President Kapaa High School.   She is also President of the Warrior Credit Union and was instrumental in starting up  a Civics Club to promote political awareness among young people.    While being involved in student government and other volunteer organizations, she  demonstrated  great time management skills by keeping up her grades to be on the  principal' list with a gpa of 4.1.  Vice Principal Thomas Cox is especially impressed with her"respectful, caring, and loving personality."According to Cox,   "She  is compassionate towards others and aspires to accomplish everything she sets out to do."  She will be attending Pacific University and majoring in Business Administration.
Alani Jerves  will be enrolled in the University of Hawaii Hilo pursuing a degree in Chemistry.  Her goal is to get into the School of Pharmacy and be a pharmacist on Kauai.  She was active in the Key Club, Interact Club, National Honor Society, and Big Brothers Big Sisters program.   According to one of her math teachers, she is a compassionate person who gets " tremendous satisfaction from helping others." She also is a straight A student and will be one of the valedictorians of her class.
Kasen Tone will be going to Boston College to major in Biology and  study medicine.  She is a member of the Interact Club and Key Club.  She is also active in Student Council(Treasurer) and National Honor Society.  As a stellar officer of the Key Club, she was involved in may community service activities.  According to her Key Club advisor,"Kasen has a great heart, and has a great awareness for helping and serving the community." By balancing her time she was able to maintain her grades and will be graduating as a valedictorian.
Kayla Takamura  will be attending  Johnson and Wales University in Denver Colorado to get a Bachlor's of Science  degree in Baking and Pastry Art/Food Services Management.  Kayla  dreamed  of being a pastry chef  since she was a little girl and the passion never left her.  According to  her Interact Club advisor Joan Kealalio, Kayla is pushed herself  to overcome her shyness by volunteering in the Warrior Tutoring  Dolphin Program, where she tutors elementary school students in reading, writing, and math, and whatever else the teachers want her to do.  Her diligence is reflected in her academic success as well, as she will be graduating as one of the valedictorians of her class.
Eryn Yamashiro is an all around student. She is described by her school mentor as " resilient, determined, and intelligent." She also has a compassionate side, volunteering in Interact Club, Student Government,  Peer Mediation, National Honor Society,  her church Youth Group, and as a tutor in a first grade class at Kapaa Elementary School.  She was also recognized as one of the top scholar athletes, with a gpa of 3.875  and having been a part of the KIF champion soccer team.  Eryn will be majoring in Civil Engineering at University of Portland.
Congratulation of the Grant Recipients and their families.  The Foundation would also like to thank the many generous donors who make these grants possible.